Manifesto For A Field Lab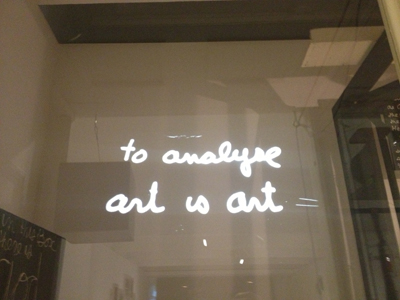 If you took a museum classroom and asked a couple of artists to rethink it as a residency space, what might they want?
Another part of last summer's work at the Walker was to do this with their Art Lab, which became the Field Lab for the season. A project of the Education and Engagement Department (creators of Open Field), it was intended for work that is informal, elastic, conceptual, and for artists with a capacity to work in expressly collaborative ways.
I brought this up with my summer of Fluxus co-conspirator, artist Chris Kallymer. Over too many cups of tea, and highly influenced by our involvement with Machine Project, we banged out an unlikely to be adopted manifesto (or set of values) for the space:
Experimentation: an ideal methodology of working in the space. To play (including fail) with ideas inside the confines of the traditional museum. The space is expressly about the creation of new ideas although experimentation means that work may or may not lead to the creation of new works.
Support: Maternal (or paternal) oversight is assumed. The arts institution is providing curatorial context as well as, infrastructure, permission seeking, protecting, acknowledgement, marketing, proof-reading, and community to the artist's space.Museum should provide parameters, limits, or fences: navigation is not our problem, duration, not our problem, scope not our problem. BLAM!
Connection: the Walker and beyond You (the Museum) provide connections to your community, inside the museum, resources, other artists both locally and to larger contexts, art movements, etc…A staff list and hierarchy would be handy. So would a list of local artists by practice and content.
What its not or what the artists do not excel in. Dissemination is outside the scope of the Lab unless it is part of an artist's practice. Also, spell checking.
What you need to provide
In order to function for both artist and staff in this capacity/identity, Field Lab needs to both signal and operate in new ways.
Top image: Ben Vautier's Gallery One installation recreation, Walker Art Center, 2014